Get your crew together – you want to go check out Perth's hottest bar, Milky Lane.
Known for their crazy burger creations that have gone viral on social media, Milky Lane has some of the best out-of-the-world food and drinks in Australia. Already a success on the Sydney and QLD bar and foodie scene, Perth's first branch is city central, set right on the Elizabeth Quay waterfront.
Whether you're staying over at the Hilton Doubletree, or you and friends are driving or Ubering in, make sure to get in early because the hype is real. You'll eat and drink your heart out because you're spoilt for choice as there's so much to indulge in. Their bites are loaded to the max, their drinks are overflowing and whatever your heart is wanting, Milky Lane will hit that sweet spot.
If you haven't already – go check out their extravagant menu!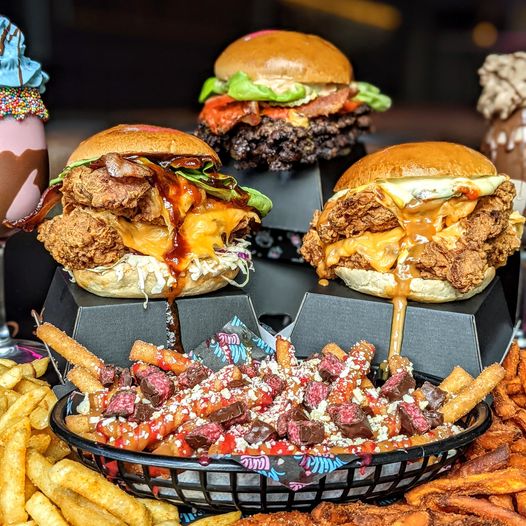 From tender meat burgers to sink your teeth into, drippy cheese to dip your soft bun in and other bites like their pop-korn chicken, loaded fries, or fried bacon, mac and cheese croquettes to feast on, it's perfect for starting or ending your night out at Perth's night life. And don't worry – gluten-free and vegan friendly too!
Our food recs? We loved eating their Chic-Kanye and Kevin Bacon burgers, and there's a lasagne burger floating around too. Make sure to order some of their overloaded cocktails – we were amazed by the look and sugar high of their famous Bubble O Bill and Grape Hubba Bubba Spider cocktails, bringing back your classic childhood classics in a fun adult twist. Or get a share cocktail for the girls – that Watermelon Sangria will be going down easy.
To be honest, we bet you won't want to leave Milky Lane once you get there. The place itself is slick – you'll get hyped with their DJ exclusively playing some of the hottest hits, plenty of lounge space for the gang to kick back and hear the latest gossip, and their great neon and graffiti atmosphere has some nods to American RnB greats.
Already lining up a few other locations around Perth, the Milky Lane staff and company are expecting a hit when they open their doors to the locals on Friday the 13th. With a queue to get into the venue, you'd better get your Milky Lane table booked so you don't miss out when your friends start sharing on their feed!
Get your Milky Lane table booking in here!