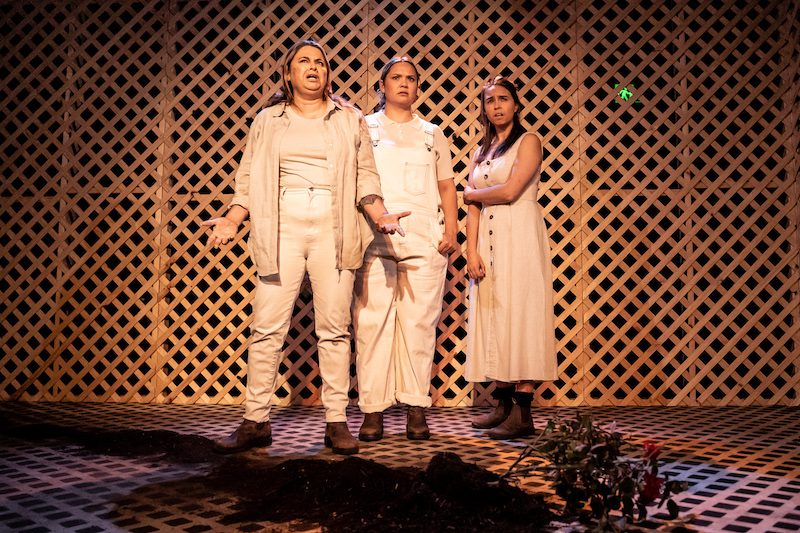 Mother: "Girls, I think your father's dead."
These six words set the premise for what can only be described as a confronting and thought-provoking hour of theatre. A moving tale of being left with no other options but to survive.
The Bleeding Tree, as presented by The Blue Room Theatre and Ian Michael (a Noongar artist), is a revisioning of the breakthrough work of Australian playwright, Angus Cerini. Through the development of Michael, these works showcase a First Nations cast sharing the story of a family in peril, reaching their breaking point and committing murder as their only perceived escape.
Daughter  1: "I knocked his knees out."
The Bleeding Tree tells the tale of a nameless Mother, played by Karla Hart (Noongar) and her two daughters, Ebony McGuire (Noongar) and Abbie-Lee Lewis (Kalkadoon). When we join their story they have just killed their abusive husband and father. It would be amiss to not mention the trigger warning of domestic abuse within The Bleeding Tree. The tale of these three women is hard-hitting and explores the isolated suffering, community silence and lack of intervention of a family in pain. Victims of relentless abuse, this story will have you drawn in and transfixed. Having the characters remain nameless allows the audience the opportunity to relate to these characters in a way that is personal to only them. Elements of each character developed throughout the hour brings you deeper into their pain and subsequent interactions with their community, and highlights how society engages with these situations.
Daughter 2: "I conked his head."
The set for The Bleeding Tree was created by Tyler Hill. The stage is surrounded by latticework and although a simple staging, it is well thought out. This not only sets the scene that this could be in an old house in a remote WA location standing on the patio, evoking nostalgia in some, or perhaps the stage portrays these three women surrounded, trapped and caged to the point they in fact were able to do something so unthinkable. The latticework allows the ability to cast shadows and create an eerie atmosphere.
'With a conk on the head and a bullet through the neck'
The performance of all three stars is strong and incredibly powerful. They create an atmosphere that has the audience connected, knowing so much about this faceless, nameless man they lived in fear of. Their expressions, timing and tone were exceptional and I believe these roles were played with the perfect juxtaposition between the moments of comedic relief, strength and darkness. For what is a very troubling and complex topic, in many moments the audience are pushed to feel compassion, pushed to feel discomfort and hopefully, reimagine all preconceived notions they may have of domestic violence and it being 'none of their business.' Like this community when they knew and had seen the horrors of this man.
The Bleeding Tree will make you uncomfortable, it will move you and make you feel. We highly recommend not missing the season.
---
The Bleeding Tree
The Blue Room Theatre, 53 James Street, Northbridge
Season: 25 November – 11 December 2021
Information and Bookings: www.blueroom.org.au