Karrinyup's newest Australian bar and restaurant, the Dandelion is opening its doors to all tomorrow. It will serve up to 200 guests in its double-story building in the centre of West Deck, with an open air restaurant above, and signature Dandelion Spirits Co distillery and classy bar below.
The latest concept in a family of award-winning restaurants such as The Standard, The Royal and fleur, John Parker and his team have worked hard to keep Perth's culinary bar high. Due to this, Dandelion offers bold flavour and their expertise in heat in their carefully chosen menu.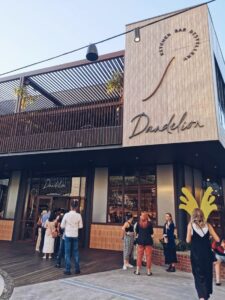 With a nod to The Standard's Asian notes, we were offered some Dandelion delicacies on their early release night – from savouring smooth red duck curry to biting into sweet Macau egg tarts. The fragrant coconut rice paired with tangerine vinegar buttered crayfish was the talk of the table. Light and comforting on the tongue, bowls across their spacious verandah were quickly emptied and cleared by helpful staff. Food and service this good seems surprising, especially as you wouldn't expect this quality in your average shopping centre.  
For patrons wanting to wet their tongue, the bar holds a wide range of choice. With a custom distillery for guests to view downstairs, the building makes bespoke Dandelion gins and vodka in-house. A hit for many on the night was the chic gin and tonic, but you may want to sample the seasonal cocktail program for a surprise. Beer drinkers can enjoy a rotating selection of local and international drinks on tap. While the wine lover will particularly enjoy Dandelion's choice of rose, perfectly chilled for a balmy summer day.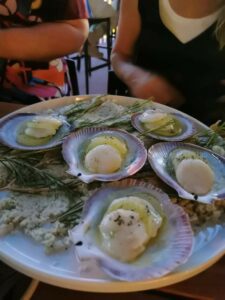 It's clear that there's a lot of love and care put into the creation of Dandelion. After speaking to Chase Weber, head chef, we were told the rotating seasonal menu was inspired by WA's great local seafood scene. Seeing Patty Kasprzak's veteran touch, brought over from the Standard, on the serving staff further highlights why Dandelion shows great promise.
Pushing new limits of comfortable communal dining and drinking, Dandelion's space is beautiful – with sleek European touches and Japanese elements to relax and spend the time. In fact, it might make you and friends imagine that you're no longer in Australia for a span of an afternoon, and instead off somewhere in sun-drenched Europe, laughing over negronis.  
Where: Karrinyup Shopping Centre. 200 Karrinyup Road, Karrinyup.
Check out their Instagram here.