Description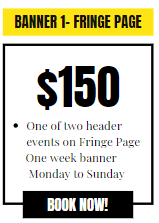 +GST
Banner image below directly below 'Fringe World" space. Please comment with your preferred week in comments on checkout. Once confirmed available by Perth Happenings this will be secured. If chosen week is unavailable your payment will be refunded to your account.
Choose from the following options-
3rd – 9th Jan 2022
10th – 16th Jan 2022
17th – 23rd Jan 2022
24th – 30th Jan 2022
31st Jan – 6th Feb 2022
7th – 13th Feb 2022
Sample imagery from the 2022 Current Events Available as place holders.