KAP – Kundalini Activation Process, Scarborough
June 16 @ 7:30 pm

-

9:00 pm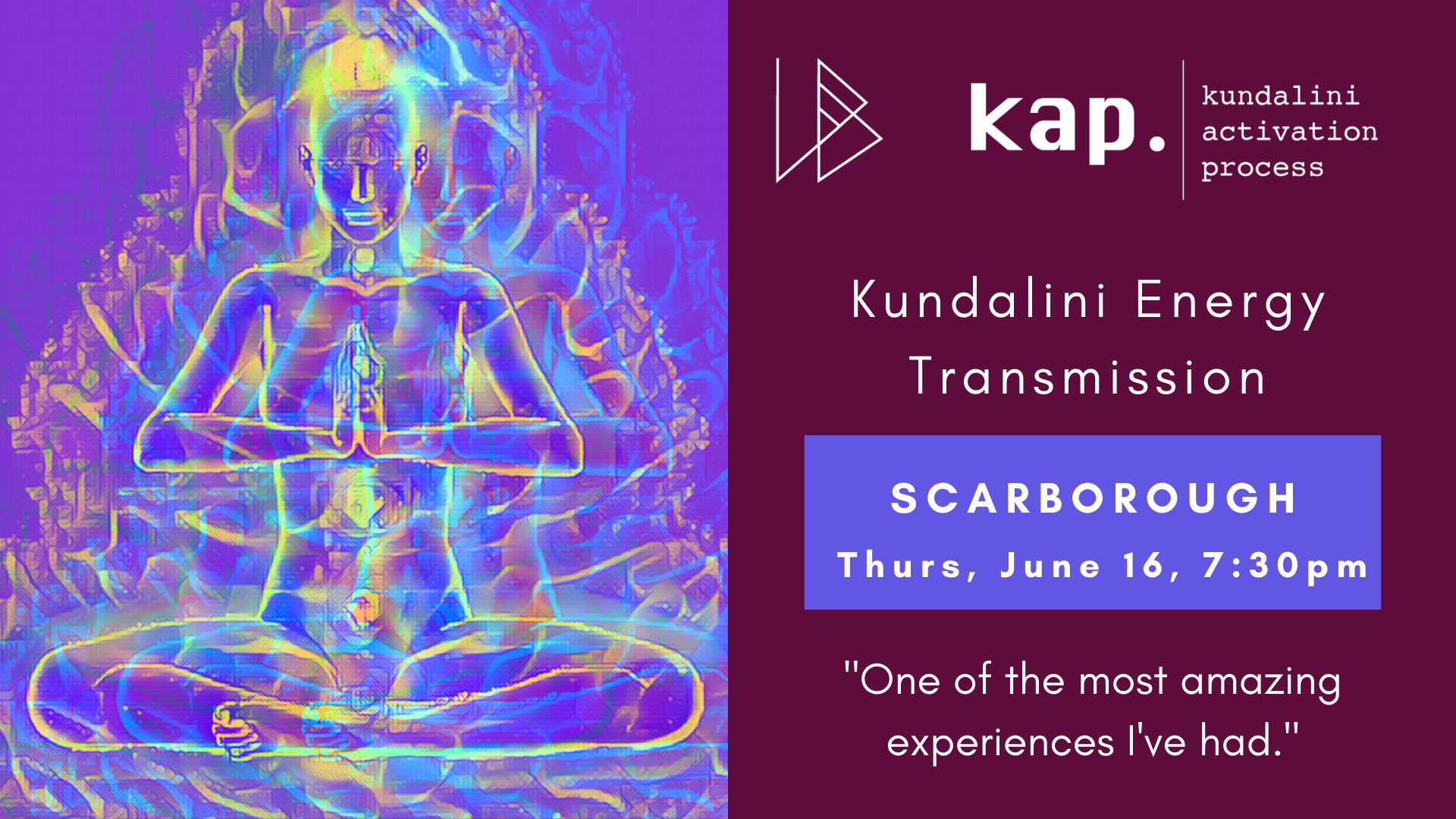 𝐖𝐡𝐚𝐭 𝐢𝐬 𝐊𝐀𝐏?
KAP – Kundalini Activation Process is a direct transmission of kundalini (lifeforce) energy. Words fall short in describing the experience – it must be experienced to be fully understood.
Everyone's experience and KAP journey is different, but most attendees report an extremely powerful experience even in their first session, which deepens and evolves over time. Participants often report a cathartic experience, emotional release, deep healing, "Aha" insights & realisations, and transformational shifts that flow into their everyday life.
𝐓𝐇𝐄 𝐒𝐄𝐒𝐒𝐈𝐎𝐍:
All you need to do is to lie on a yoga mat whilst music is played for about an hour. The facilitator will work in your energy field and at times activate meridian points over your body and facilitate the flow of energy.
𝐏𝐑𝐈𝐂𝐄:
Earlybird – $50 AUD
General Admission – $55 AUD
Book Online via Ticket Link.
Spots are limited due to space.
If you are experiencing financial hardship, please contact me for a concession rate.
𝐓𝐈𝐌𝐄:
7:30pm arrival. Ends ~9pm (1.5hrs).
𝐋𝐎𝐂𝐀𝐓𝐈𝐎𝐍:
The Yoga Room,
Suite 2/60 Scarborough Beach Rd, Scarborough, WA
————————————————————-
𝐏𝐀𝐑𝐓𝐈𝐂𝐈𝐏𝐀𝐍𝐓 𝐖𝐎𝐑𝐃𝐒:
"Incredible experience that you have to live to understand."
-𝐀𝐮𝐝𝐫𝐞𝐲
"KAP was an amazing experience for me. Really loved the music and vibe of the event. I think everyone should try this the visual experience i had was crazy."
-𝐒𝐡𝐚𝐲𝐧𝐞
"I've been dying to try KAP and am glad I did. It was welcoming and I had the sensation of floating on clouds."
-𝐉𝐮𝐥𝐢𝐚
"Such an amazing experience, I recommend you attend a workshop it's so worth it
"
-𝐉𝐨𝐝𝐢𝐞
"I have done a number of KAP sessions with Niki online and in person and attended some of her events and they have all been amazing!"
-𝐒𝐚𝐫𝐚𝐡
"I have been to Kap 2x and I can honestly say that its an amazing experience. Nikki is a great facilitator and you will definitely feel in safe environment."
-𝐙𝐝𝐞𝐧𝐤𝐚
————————————————————
𝐌𝐎𝐑𝐄 𝐈𝐍𝐅𝐎 𝐎𝐍 𝐊𝐀𝐏:
What Can Happen During the Session:
-𝐄𝐍𝐄𝐑𝐆𝐄𝐓𝐈𝐂: Feeling heat, vibrations and/or other sensations of energy in the body.
-𝐌𝐎𝐕𝐄𝐌𝐄𝐍𝐓: Spontaneous movement of the body that opens and aligns the energy system.
-𝐕𝐈𝐒𝐔𝐀𝐋𝐒: Visual experiences like seeing colours, patterns, light, and even astral travelling.
-𝐄𝐌𝐎𝐓𝐈𝐎𝐍𝐀𝐋 𝐑𝐄𝐋𝐄𝐀𝐒𝐄: Spontaneous laughter, screaming, crying, and other releases of stuck/suppressed emotion, along with feelings of love, joy, lightness etc.
-𝐁𝐋𝐈𝐒𝐒 𝐒𝐓𝐀𝐓𝐄𝐒: Profound sense of oneness, heart-opening, connection with source, and pure blissful joy.
-𝐎𝐓𝐇𝐄𝐑: Nervous system regulation, re-wiring of the brain, deep insights/messages.
𝐅𝐚𝐜𝐢𝐥𝐢𝐭𝐚𝐭𝐨𝐫 𝐏𝐫𝐨𝐟𝐢𝐥𝐞:
Niki Michalek is an accredited KAP facilitator. She has trained with Venant Wong who founded the Kundalini Activation Process.
Related Events
Leave a Reply