Drums of Japan – Taiko Essentials Workshop Introduction
June 12 @ 1:00 pm

-

4:00 pm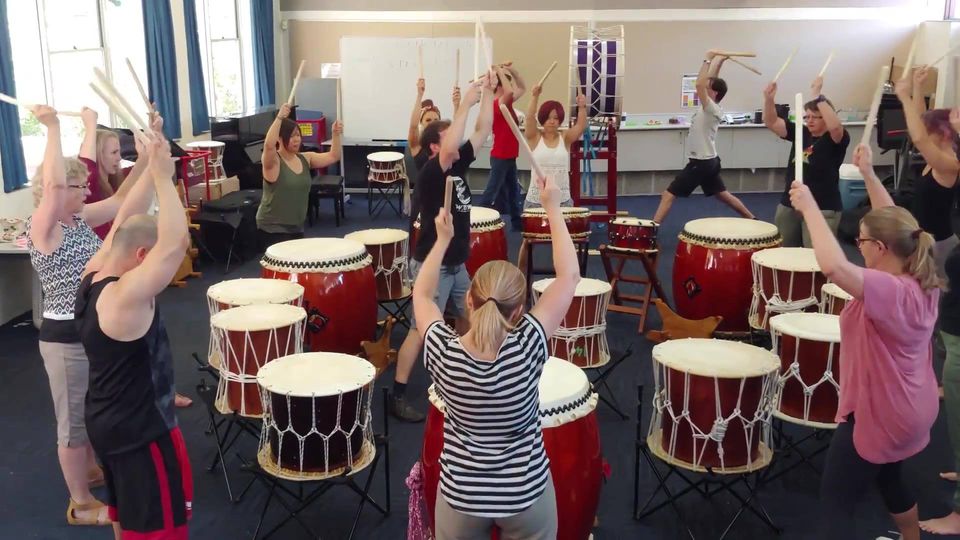 Your Introduction to the energetic and energising style of Japanese Festival Drumming..
Rhythm | Form | Spirit
Full body percussion workshop for taiko beginners, first-time drummers and returning students. Over 3 hours we will explore basic rhythms, shouts, body movements and weave them together with group coordination amd improvisation.
No experience necessary – suits all levels of fitness and great for all ages.
Adult pass 1p $45 full workshop pass
Student_Conces 1p $35
Parent + Child 2pl $70 bring your son or daughter
Parent + 2 Child'n 3pl $90 bring 2 kids 9 y.o. ~ 18 y.o
Adults Pair 2pl $80 Bring a friend for more fun
Concession + 1 2pl $65 Invite your friend along to share the joy ( and pain ) for students or concession card holders
Taiko originates from the festival culture of Japan, which is as varied and diverse as the drum are loud. Over the last 60 years, many groups have taken the colour and movement of Taiko from these local Japanese Matsuri festivals and brought them together on stage and introduced taiko to audiences around the globe. Taiko is easily recognised for its stylised martial arts-like movements, simple powerful rhythms, and synchronised actions.
Taiko On sensei, Simon Vanyai, originally studied Taiko in the mountains of Nagano-ken over 18 years ago and has since passed on his passion for Taiko to thousands of Australians.
The name Taiko On!! is not only a team cry to beat the drum with all one's energy and spirit, the Japanese characters also represent the meaning "Sound of the Drum "
Their ensemble of drummers have been drawn to the resonance of the drum from a wide variety of backgrounds, to train, laugh and show their love of the Japanese Taiko to the people of Perth
Related Events
Leave a Reply